The development of practical and efficient chiral catalytic systems for asymmetric organic reactions is one of the most important subjects in synthetic organic chemistry. In general, conformationally rigid chiral ligands have been proven to be extremely useful for the construction of a good oriented and fixed chiral environment around the metal center, which could efficiently impart high enantioselectivity and activity to some important reactions.
Currently, the catalysts used for the asymmetric hydrogenation of aromatic ketones are mainly chiral diamino/diphosphine ruthenium complexes. There are very few reports focused on developing efficient chiral diaminea that could be combined with commercial available inexpensive achiral phosphane ligands to construct an efficient Ru-catalyst for the asymmetric hydrogenation of ketones.
Researchers from the State Key Laboratory for Oxo Synthesis and Selective Oxidation at the Lanzhou Institute of Chemical Physics (LICP) of the Chinese Academy of Sciences (CAS) have developed a new type of efficient ruthenium catalysts containing rigid chiral diamines and achiral commercially available diphosphanes (DPPF or DPEphos), which affords excellent enantioselectivities (up to 99% ee) and reactivities (up to S/C=100 000) in asymmetric hydrogenation of simple aromatic ketones and functionalized ketones.
The rigid structure and electron-withdrawing nature of the chiral diamines appear to be the key feature to enable the achiral phosphane ligands to be applicable to construct highly efficient ruthenium catalysts for asymmetric hydrogenation of ketones. The tunable modular structure of the chiral diamine enables researchers for the first time to observe a significant electronic effect of the amine moiety which affects catalytic performance.
In contrast to many reports on the modification of chiral phosphane ligands to mimic the Noyori catalyst, the present work demonstrated for the first time that highly enantioselective ruthenium catalysts could be established from simple inexpensive achiral phosphanes and rigid chiral diamines. The results obtained in this work should stimulate the search for simple and practical catalysts for enantioselective hydrogenation of ketones with commercially available diphosphane ligands.
The work has received support from the Chinese Academy of Sciences and the National Natural Science Foundation of China. The findings have been published in Chem. Eur. J. (Chem. Eur. J. 2011, 17, 7760 – 7763).

Scheme of the catalyst system. (Image by HUANG Hanmin et al.)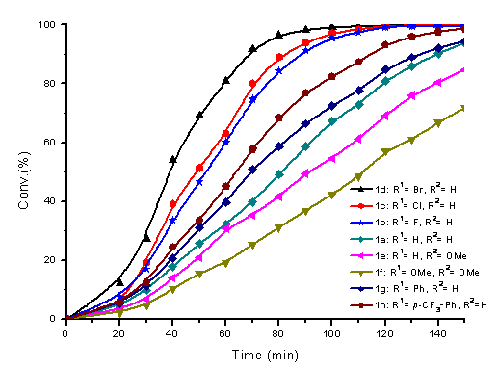 Effect of the electronic properties on the rate of hydrogenation of 4a in nPrOH under 10 atm of H2 at room temperature in the presence of 0.1% mol of catalyst. The Ru-catalyst was composed with DPPF and the corresponding amine.(Image by HUANG Hanmin et al.)