Prof. Yue Zhao from the Département de chimie, Université de Sherbrooke, Canada, visited the Lanzhou Institute of Chemical Physics of the Chiese Acadmy of Sciences on June 30. During his visit, he delivered a lecture entitled Design and Study of Novel Stimuli-Responsive Polymers and Hybrid Materials.
In his lecture, Prof. Yue Zhao reported on his group's recent studies on polymers and hybrid materials that are responsive to a variety of stimuli such as light, temperature, pH, ultrasound and carbon dioxide. They have developed new methods and materials design to make polymers respond to stimuli in a controllable or predictable manner, or in a way to exhibit a useful function.
Introduction to Prof. Yue Zhao: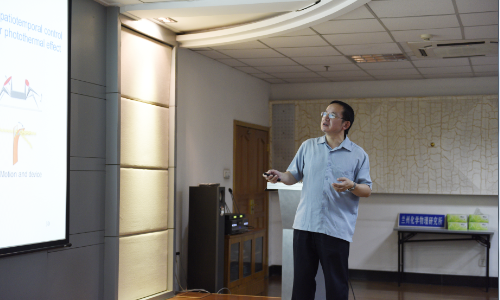 Prof. Yue Zhao received his BSc in 1982 from Chengdu University of Science and Technology (now Sichuan University). He went to France in 1983 for graduate studies at the École Supérieure de Physique et de Chimie Industrielles de Paris (ESPCI). After obtaining his PhD in 1987, he went to Canada for postdoctoral studies at the Université Laval. In 1991, he joined the Chemistry Department of the Université de Sherbrooke and has been a full professor since 2000. He was a chair professor of Chang Jiang Scholar at Sichuan University (2007-2010). Zhao's main research interests are the design, synthesis, study and exploitation for applications of self-assembled, nanostructured and stimuli-responsive polymers and liquid crystalline materials. He has published over 185 papers in primary journals and edited a book on azobenzene-containing polymers and liquid crystals. His work on photocontrollable polymer micelles earned him the inaugural Public Prize for the Discovery of the Year 2005 in Quebec. He was the recipient of the Macromolecular Science and Engineering Award of the Chemical Institute of Canada (CIC) in 2013 and has been elected CIC Fellow in 2014.