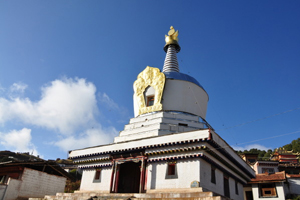 Located in Langmusi Township, the Langmu Lamasery is some 90 kilometers away to the south of the county seat of Luqu. Nestling by the side of the White Dragon River at the north foothill of Guo'ermangliang River, a branch of Xiqing Mountain, it is at the junction of Gansu, Qinghai and Sichuan Provinces.
As a lamasery for Tibetan Buddhism, Langmu means "fairy" in Tibetan language. In the cave there is a piece of rock standing elegantly and looking very much like a fairy and people has it hat the rock is an incarnation of the fairy, hence the derivation of the temple name. In addition, there is a tiger lair in the deep recess of the forest behind the temple and is known as "Dehecang" in Tibetan language. Therefore, the temple can also be called a "fairy in a tiger lair".
Opposite the Ge'erdi Temple in Sichuan across the White Dragon River, the Lanngmu Lamasery has seen its heyday in its early days. Destroyed in 1969, the temple was reconstructed later year o year. In front of the temple there is a mountain looking very much like a monk's cap and one sees a red cliff towering high on the east of the temple while a rocky peak stands abruptly to the west with weird rock pieces all round. At the foot of the mountain there is an expanse of pine in luxuriance for visitors to go round for their own enjoyment.
Lying not far away from the Langmu-Lanzhou Highway the Lamasery is one of the famous attractions along the Lanzhou-Jiuzhaigou tour route, which ahs now been opened to tourists in recent years.
Cited from:(Han Rongliang & Han Zhiyu (2006). Guide to Gansu [M].Beijing: China Travel and Tourism Press)