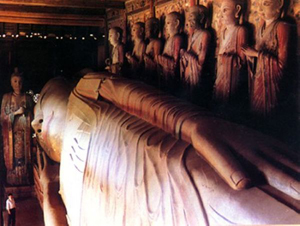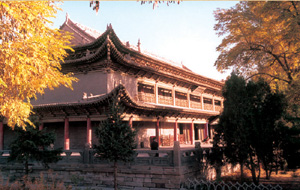 Located in the southwest corner of Zhangye City the Grand Buddha Temple derived its name from the fact that there exists a Buddha in a state of nirvana in the temple, the biggest of its kind in China. Built in 1098, the first year under the reign of Yong'an of the Western Xia Dynasty the temple was put up due to a record in history, saying that Wei Yang, national master monk of the Western Xia Dynasty once found a reclining Buddha under a piece of green tile when digging at the place.
The buildings now in existence include the Grand Buddha Hall, the Buddhist Scripture Storage and the Earthen Pagoda. Standing 33 meters high the Grand Buddha Hall is of nine bays, looking quite specious and magnificent. Both sides of the gate are inserted with a carved brick-piece of 6 square meters, one on each side. That on the left reads "Ascending to the Paradise" and "Wonderland in Western Heaven" and that on the right "Into an Enlightened World" and "Preaching in the Realm of Buddhism". Lying in the hall is the Recumbent Buddha, a clay and wood sculpture of 34.5 meters in length with that measuring 7.5 meters between two shoulders, 4 meters for his foot and 2 meters for the ear. All gilded it looks vivid and lifelike, seeming to be awake when looking at it yet it is asleep if stirred up. Sculptured behind the reclining Buddha are his ten disciples and on both sides of the hall are seen the 18 arhats and the walls are painted with murals Pilgrimage to the West and Chinese Fables about Changes. Kept in the Buddhist Scripture Storage are more then 6,000 volumes of sutras granted by Emperor Yingzong of the Ming Dynasty. Well kept and written in gold and silver they are the most precious relics of the temple. The Earthen Pagoda stands 33.37 meters high behind the temple. As one of the five elements' pagodas in Zhangye, at the corners of the first two platforms are built with little pagodas of an elephant style, a rare object to be found in the country.
As said, the Grand Buddha Temple in Zhangye was the birthplace of Kublai Klan and so the imperial queen mother's coffin was kept in the temple. At the end of the Southern Song Dynasty, Emperor Gongzong by the name of Zhao Xian was ordained here for avoiding political disturbances after he was taken a captive. The Grand Buddha Temple used to be a huge temple in the 16th century for 4,000-5,000 monks to do religious service simultaneously.
Cited from:(Han Rongliang & Han Zhiyu (2006). Guide to Gansu [M].Beijing: China Travel and Tourism Press)